Sonya & Alan's Wedding at Bridge House Hotel Tullamore, Co. Offaly. Celebrations took place on 31st December 2014.
Sonya & Alan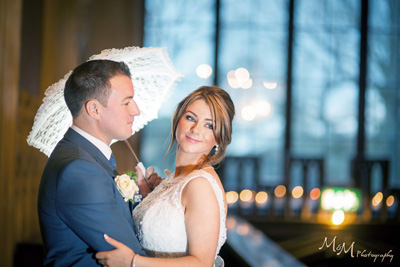 Marcin and Marta were recommended to us through our friends and when we saw their photos we knew we had to book them. We planned our wedding from Australia so it was of great comfort to have such professional photographers on the case.
We thoroughly enjoyed the engagement shoot which came with our package. As a couple who travel we rarely get photos together so it was a great opportunity for us to get some beautiful pictures for our video. It also gave us a chance to get to know both Marcin and Marta and their style. We left the shoot so excited for the wedding; they made us feel so as ease.
On the morning of the wedding both photographers were at the house before I got back from makeup.  My family were already commenting on how fantastic they were especially with the kids and taking kandid shots. This was to be the tune of the day. Marta stayed with me and Marcin went to the church to meet my groom. They were literally everywhere on the day and we have the photos to show it. Our guests were constantly commenting on their work ethic and how seamlessly they fitted into the crowd, many forgot they were even there. The photos were truly amazing and something we will have for the rest of our lives. When the meal is over and the dress put away your photos are your memories of the most special day in your life.
We not only got the engagement shoot and 2 wedding discs with our photos neatly divided into folders but we also got the most fabulous canvas of a photo of our choice, which ended up being a beautiful gift for my parents upon us leaving.
Marcin and Marta thank you so much for helping making our day so special and giving us memories which will last a lifetime.
Here are photographs from their Big Day: